---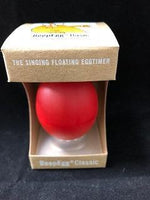 This singing and floating egg-timer will ensure that your eggs are boiled to perfection every time

Plays 3 melodies:  'Oh Susanna' for soft-boiled eggs; 'Take Me Out to the Ballgame' for medium-boiled eggs'; 'Hail Hail the Gangs All Here' for hard-boiled eggs.
Boil with your eggs until the music plays.  Different tunes indicate soft, medium and hard boiled.  2 yr warranty.  Various colors will ship:  Deep Purple, Lavender, Sky Blue, Yellow, Green, or Red. Made in Germany.