---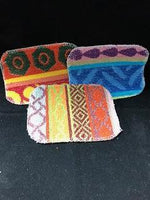 The world's best multi-purpose scrubber
The euroSCRUBBY makes clean up fast and easy,
plus for almost all surfaces! 
The euroSCRUBBY has an abrasive texture, yet will not scratch any surfaces.
It will last anywhere from 6 month to 2 years, depending upon how you use it.  PRICED PER EACH.  Various color patterns will ship. 61/2" x 5".